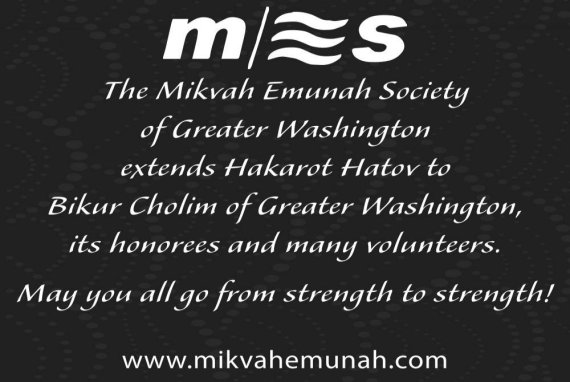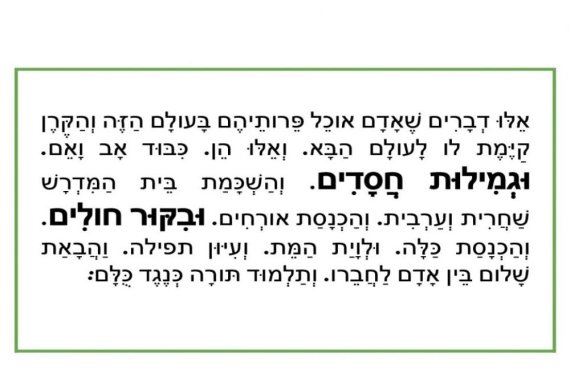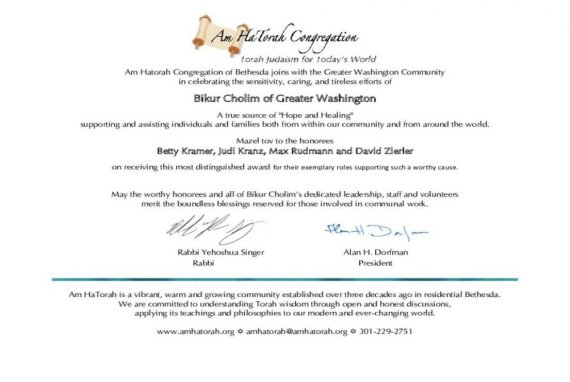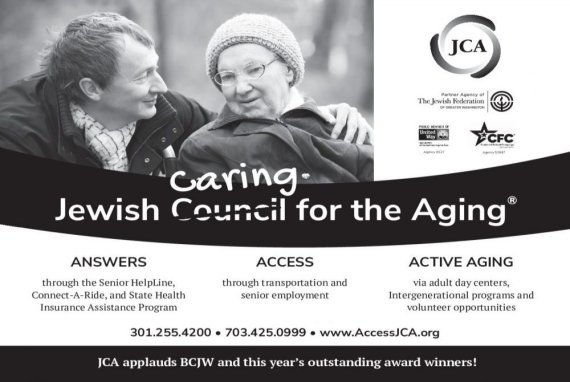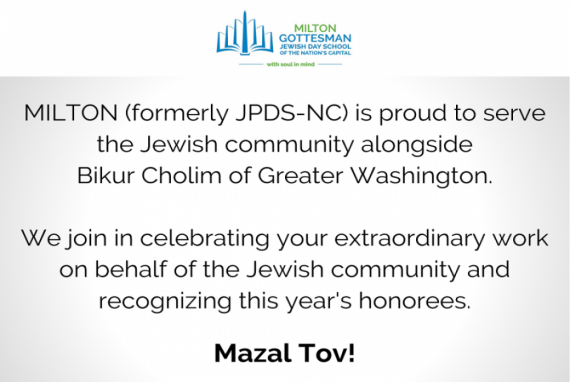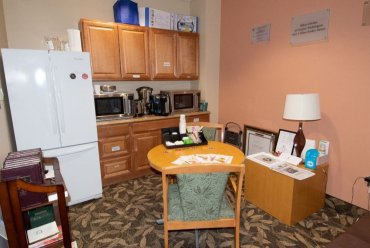 BC room in Shady Grove Hospital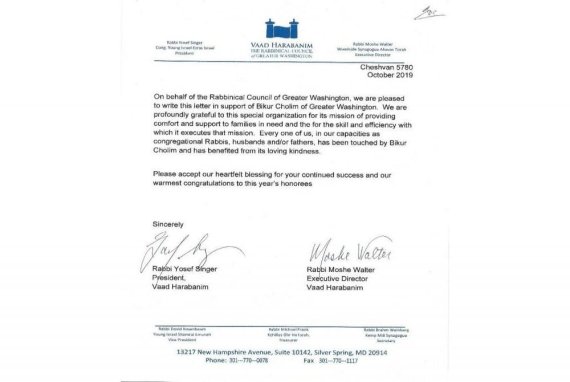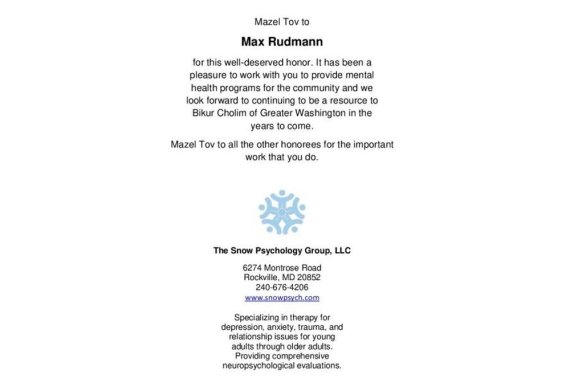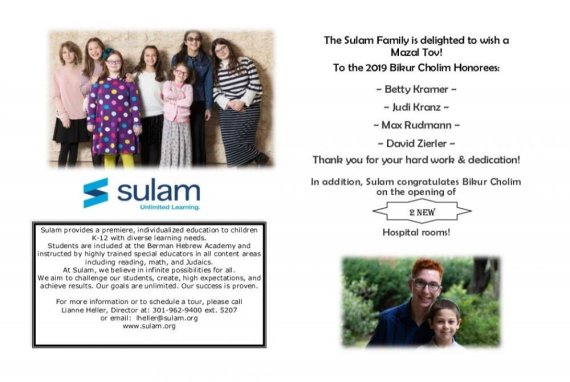 BS"D
Mazel tov to Betty Kramer, Max Rudmann,
Judi Kranz and David Zierler!
Your generous commitment of time
is such an important mitzvah for the Bikur Cholim community.
With gratitude to Audrey Siegel, Gary Winters
and the Bikur Cholim board for your endless dedication
to serving those who need the care and services
that Bikur Cholim provides so lovingly.
May your efforts bring us closer to the day
that we will no longer have clients to serve!
Manette and Louis Mayberg
Mazel Tov to this years Star Volunteers
of the Bikur Cholim of Greater Washington:
Betty Kramer
Judi Kranz
Max Rudmann
David Zierler
The generosity and creativity of your volunteer work
makes the BCGW the exceptional organization
that it is, and we honor and salute you for your dedication
and commitment to Chesed through the many programs
of Bikur Cholim of Greater Washington.

Alan and Fran Broder and family

Mazal tov to our wonderful
and dedicated honorees!
Volunteers are the lifeblood of BCGW,
and we express our deepest thanks
for your efforts to bring hope, comfort
and healing in our community.
Gary and Shana Winters
In tribute to
the exemplary leaders
and incredible volunteers
of Bikur Cholim of Greater Washington
whose acts of kindness
and caring are inspirational.

With admiration and appreciation,
David and Sharon Butler
Mazal tov honorees
and in honor of Rabbi Elie Gayer
Brett and Alana Fine
Congratulations to this year's
Bikur Cholim of Greater Washington honorees,
our long-time friend Max Rudmann, Betty Kramer,
Judi Kranz, and David Zierler.

Thank you for all the volunteer work you do
for for this incredible organization.
We are blessed to have such a vibrant Bikur Cholim
in our community.

Naomi Baum and Saul Newman
Evelyn Baum

Mazal Tov Betty (Grandma) Kramer
on this well deserved honor!
May you continue to be an inspiration
for the entire community.
Moshe, Batsheva, Serena
& Emma Broder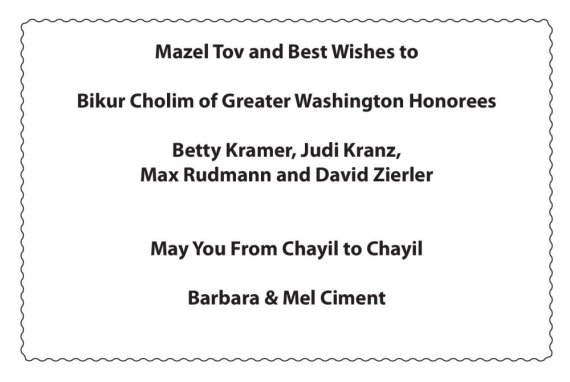 Mazal tov wonderful honorees
Eve and David Farber
Thank you to the outstanding Bikur Cholim staff,
volunteers and donors.
Mazel tov to the honorees
and a special shout-out
to our dear friend and neighbor,
David Zierler.


Howie and Elaine Feldman
Mazel Tov for another successful year.
May Hashem continue to help provide
Bikur Cholim with the volunteers and the funds
to be able to accommodate
all the services needed
for our growing community.
Harvey and Betty Kramer
Mazel Tov to Betty Kramer (Grandma)
on this well deserved honor -
you are a continued source of inspiration
to your family and greater community.
Thank you to BCGW for all the services and care
you provide to our community
in such a thoughtful and sensitive manner.
Meir and Aviva Kramer
Drishat shalom to Judi/ Mom/Bap from the Kranz Family
We are happy that you are being honored by Bikur Cholim for your service
to people in need, although we jointly and without ceremony gave you an A plus years ago
for all the wonderful things that you have unfailingly done for us, when we were in need.
Many times, we didn't even have to ask you; you just used your Sixth Sense as Mom
or Bap to know, when, where and what was needed. Year after year, day and night,
rain or shine, we knew that Mom/ Bap would be ready to help.
From time to time, we have remembered to tell you ' thank you '.
Today, we all take great pleasure in the honor awarded to you
by Bikur Cholim of Greater Washington.
We are proud of you and love you.
Josh, Ora, Jonathan, Shelley, Jeremy
Coby, Rachel, Archie, Layla and Fred

Thank you to
Betty Kramer, Judi Kranz, Max Rudmann and David Zierler
For all the wonderful chesed you do for Bikur Cholim of Greater Washington. Audrey , you are the engine
that makes bikur cholim run! Your insight, experience, devotion and energy, is admirable.
You have assisted and supported so many in our community
and around the globe with great sensitivity and understanding. Your vision and dream of having a place
for families to stay while caring for their loved ones has impacted so many. Establishing kosher pantries
in major hospitals is an incredible community resource that couldn't have happened
without your hard work!
Rabbi Gayer, thanks so much for your assistance in managing the bcgw office. Organzing meals, rides,
medical equipment and so much more is a vital service for our community.
Thank you for all that your do behind the scenes on a daily basis!

With great gratitude, respect, and appreciation.
Rhonda Lehman
MAZAL TOV
BETTY KRAMER
WE CHERISH YOUR FRIENDSHIP
WE ARE IN AWE OF ALL YOU DO FOR THOSE IN NEED - OPEN MINDED AND OPEN HEARTED,
YOU TRULY SEE ALL AS CREATED B' TZELEM ELOKIM. ANYONE IN NEED
CAN TURN TO YOU FOR SUPPORT, GUIDANCE, NOURISHMENT - BOTH PHYSICAL
AND EMOTIONAL. YOU SHOW US HOW WE CAN STAND STRONG IN THIS WORLD
AS TORAH TRUE JEWS - JUST LOOK AT YOUR DEAR HARVEY AND FABULOUS FAMILY!
MAY YOU AND HARVEY TOGETHER, AD MEAH V ESSRIM,
CONTINUE IN STRENGTH DOING YOUR MANY MA'ASSIM TOVIM
FONDLY
YITZCHOK AND BARBIE LEHMANN SIEGEL AND FAMILY
Mazal tov to the honorees
Judi Kranz, Betty
Kramer, Max Rudmann
and David Zierler
Thank you for all that you do
on behalf of our community.
Maybe you go from strength to strength.
Ahava and Ephraim Leibtag
Mazal Tov to the honorees
From,
Allen and Elaine Minzer
B"H
Congratulations to the worthy honorees
and to all the staff and volunteers
of this most worthwhile organization!


Gail and Jeffrey Nadel
Congratulations to this year's honorees:
Betty, Judi, Max and David.
Thank you to all of BCGW's amazing volunteers
and staff for all that is done to help our community
fulfill this tremendously important mitzvah
of taking care of others.
May you all continue to go from strength to strength.


Debra Reiter Panitch
To the Max!
Max Rudmann always does the most he can, and encourages
others to do all they can in turn--to contribute to the max, you
might say! He is a true role model and we are blessed
by his and Debi's friendship.
Our deepest gratitude to all the wonderful honorees, and to
Audrey, Rabbi Gayer, Gary and the board, and to all the
volunteers and donors BCGW does its healing magic
thanks to every one of you.
May you go from strength to strength!
Judy and Stuart Rosenthal
Thank you to BCGW for:
Expanding our awareness of the needs
of those who are ill or isolated
Creating resources, activities, and environments
to help Jews heal and enlisting our community's support

A special thank you for all their hard work to honorees
Betty Kramer, Judy Kranz, and David Zierler


Deborah and Max Rudmann

Mazal tov to our favorite 2019 star volunteers
Betty Kramer ( Woodside Mentor)
Judi Kranz ( Potomac Inspiration)
Max Rudmann( Kemp Mill Leader)
David Zierler ( White Oak Visionary)
All of you exemplify the Jewish values
of kindness and compassion.
Special thank you to Rabbi Elie Gayer and Gary Winters.
Without both of you there would be nothing.
Audrey and Neil Siegel
In honor of
Max Rudmann
for his selfless dedication to Bikur Cholim
and so many chesed efforts in our community
-and-
In gratitude to
Bikur Cholim of Greater Washington
for the sensitive and caring manner in which it provides
essential services and life-affirming care
to individuals and families in need

Shmuel and Mindy Tolchinsky
Mazel tov to all of this year's deserving honorees.
Thank you for the work you do
to help this great organization.

Thank you to BCGW
for everything you do
for us and our community.

Kami and Tevi Troy
Kol Hakavod to Betty Kramer
and the rest of the BCGW honorees.
Betty, you were the first person we ever talked to about Woodside. Thank you so much for arranging the hospitality
for us as we looked for a community in the D.C. area
over 12 years ago! Your dedication to WSAT
and to the rest of the Greater Washington Jewish Community
has not wavered in all the time we have known you.
Thanks also to BCGW for the numerous services
and far reaching impact it makes for all Jews,
both local and non-local to our area.

Dan, Julie, Ruthie, Joey and Tali Vogel
Yasher koach to our dedicated honorees

Max, Betty, Judy and David
Our community, especially the individuals you help
Owe you a major debt of gratitude

We thank our worthy staff, board and all our volunteers
For your many contributions

May you all go from strength to strength

Eddie Snyder and Ann Wimpfheimer

Mazal Tov to Betty Kramer!
Thank you for your numerous contributions
to our Jewish community.


Rivka Yerushalmi
Mazel Tov on your well deserved honor!
Your dedication to Chesed is an inspiration
to our whole family.
May you and Harvey be blessed with Nachas and Gezunt
and be able to continue on your path of Chesed
and Avodas Hashem until 120 BE "H.
Love,
Shlomo and Shayna
Mazal Tov Mom/Grandma on this very special honor.
May you continue to be our role model in chesed
for many years to come!
With much love:
Larry and Miriam Kramer and family
David and Malke Kramer and family
Margaret and Barry Herzog and family
Linda and Stan Lebovic and family
Yaakov and Yael Kramer and family

Congratulations, Betty! From your Woodside fan club:
Chana and Benzion Berliant
Sue Dickstein
Bayla and Ben Marks
Adina and Danny Gewirtz
Betty and Gus Goldberger
Naomi and Jess Hordes
Sharon and Alan Horowitz
Avrom Landesman
Karen and Bernie Lipman
Joan and Ernst Neugroschl
Micheline and David Peller
Brenda and Zev Pieprz Linda Rishe Sara Silver Hedy and Yitzchok Szanzer

Dear Abba,
Mazel Tov for your tireless efforts
in helping such a wonderful organization
and the community at large!

We are so proud of you - with much love,
Aaron, Arielle, Lazer, Haim, Elyse,
Eli, Noam, Nachum, Yosef, and Ateret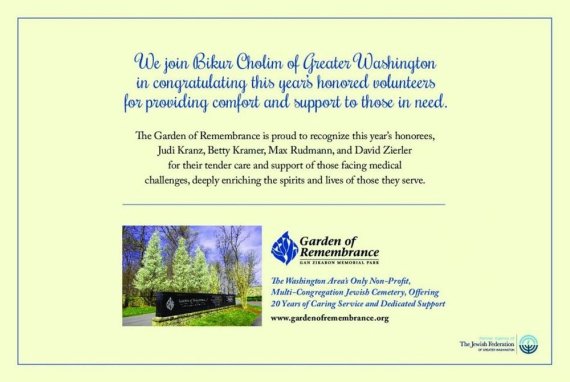 והקרן קיימת לו לעולם הבא, ואלו הן
גמילות חסדים והכנסת כלה וביקור חולים
In recognition of the dedication
and selflessness of
Mrs. Betty Kramer
on behalf of anyone
and everyone in his/her time of need.
Menachem & Miri Gottlieb & Family
Mazal tov to Betty Kramer, Max Rudmann
and all the honorees for all that you do
for Bikur Cholim of Greater Washington.
Your kindness, devotion and empathy toward cholim
is an inspiration to us all.
You are all exemplary role models.
Devorah and Dean Grayson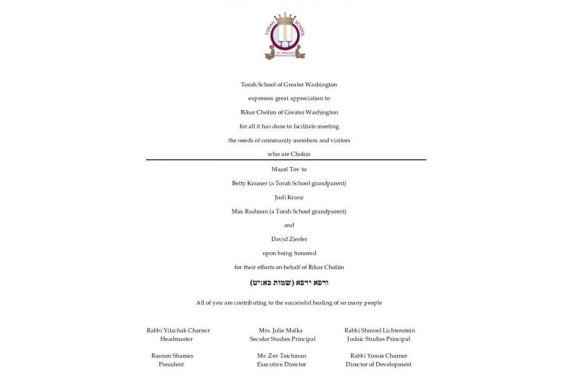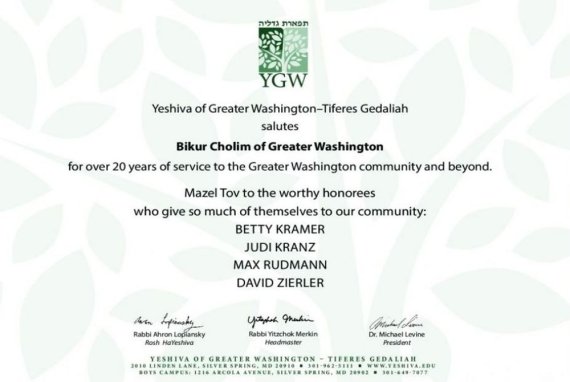 In honor of our friends
Max and Debi Rudmann
and
David and Aviva Zierler.
Thank you for all your work
on behalf of Bikur Cholim
(and thank you to all the Bikur Cholim
staff and volunteers as well!)
!תלכו מחיל אל חיל
Yitzhak, Chana Sara, and Simha Grossman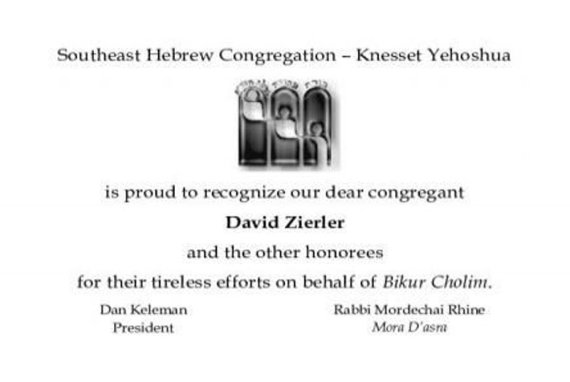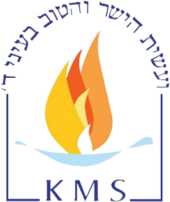 The Kemp Mill Synagogue
extends our profound gratitude to
the Bikur Cholim of Greater Washington Honorees!
Betty Kramer
Judi Kranz
Max Rudman
David Zierler

You are role models for what it means to take care of
the community and be oskim b'tzarchai tzibbur.

Together with Bikur Cholim of Greater Washington,
you bring healing to so many people in our community.

Thank you for sharing your energy and spirit with our community.

May you always go from strength to strength.

Rabbi Brahm Weinberg
Saul Newman, KMS President

Mom/Grandma:

Bikur Cholim, Hachnasas Orchim, Chevra Kadisha -
Your acts of chesed set a shining example for us all.
Mazel Tov on this well deserved honor.
Love,

Larry & Miriam Kramer

Josh & Bracha Meir & Aviva
Jeremy & Lisa Tzvi & Veeta

Congratulations to all the 2019
Bikur Cholim of Greater Washington honorees--
Judy Kranz
David Zierler
Betty Kramer
Max Rudmann
Max, our long time friend, what a gift you are
to the Washington DC Jewish community!
Audrey Siegel and Gary Winters, this has been
Bikur Cholim's best year ever,
and we are so blessed to have you both at the helm.
Congratulations on the new Bikur Cholim rooms and the ones ahead!
Neil and Fran Kritz
Mazel Tov to all the Honorees
for you tireless efforts
on behalf of the community


Judah and Marilyn Lifschitz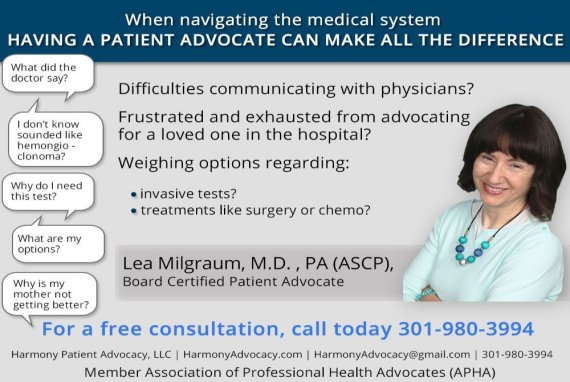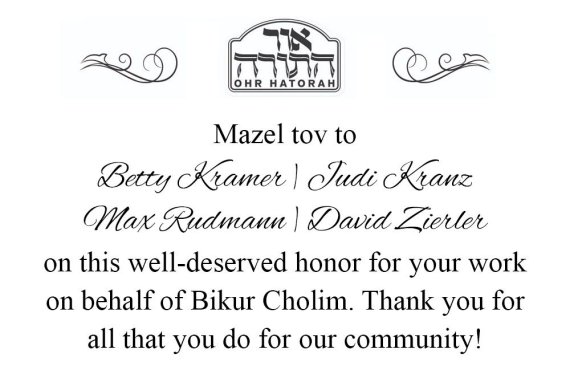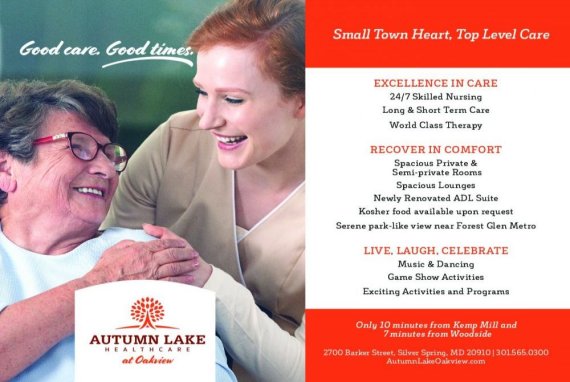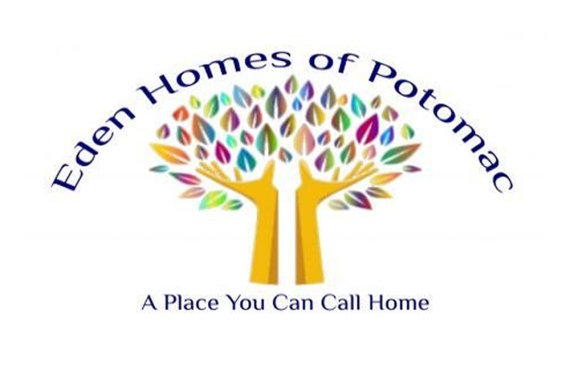 Mazal Tov to all the honorees
for your hard work in support of
this amazing organization!
Bikur Cholim provides a model
for the good a community can do.
Kol HaKavod,
Sara Silver
Betty Kramer has been the standard we look up to
in all the various mitzvah of gemilut chassadim:
hospitality, visiting, encouraging, and providing for
the ill and discouraged - practically and emotionally.
You and Harvey have created and sustain
not only your fabulous family but also Woodside
and the GW community as pillars, founders, stalwarts!
To Max Rudmann, kudos! kol hakavod! Always with a smile,
kind word, quietly, you have gone about
doing so much for so many. Todah rabbah!
Kol haKavod! Todah rabbah to all the honorees
and Bikur Cholim of Greater Washington!
Bob and Nancy Weisman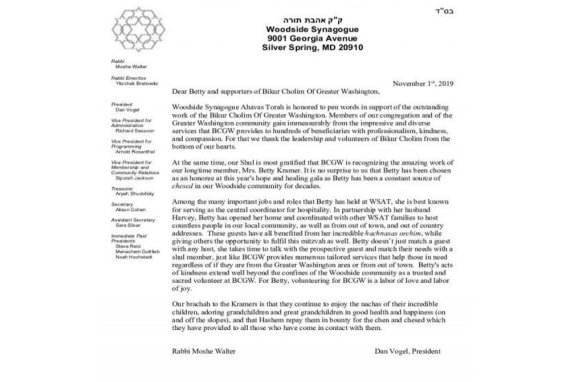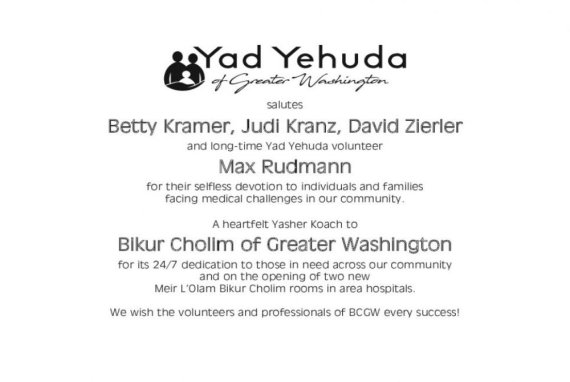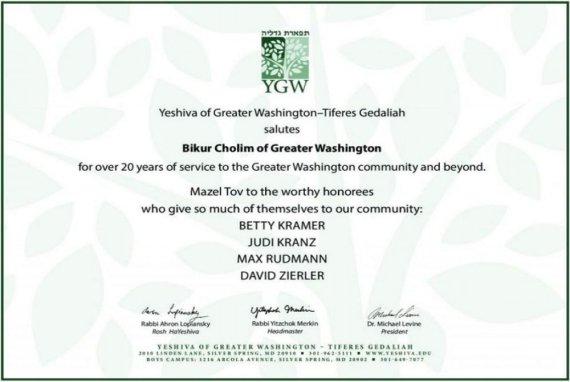 Marshall and Jennifer Breger
Bernard and Vera Ehrlich
Sheila Gaisin
Yale and Sahra Ginsburg
Phillip and Tobie Hollander
Jess and Naomi Hordes
Rabbi Saul and Mrs. Susan Koss
Ellen Krischer
Barbara and Jules Meisler
Dovid and Michal Merkin
Marcia Meth
Cary and Karen Presser
Jim Rosenberg
Yehoshua and Leah Scheininger
Susan and Arnold Schwartz
Hyam & Naomi Singer
Gila and Myron Wakschlag
Deborah Weinstein
Boruch and Rochelle Wertenteil
Avi and Mary Jaine Winokur