Temple Emanuel of Andover
Ruth Ruderman
Temple Emanuel of Andover
The Polonsky Family
Temple Emanuel of Andover
Arnold & Rachel Weiner
Diamond Sponsor
In honor of
Rabbi Goldstein's retirement
and his 30 years
of distinguished leadership
at Temple Emanuel.
Elliot and Donna Katzman
Bronze Sponsor
Thank you Rabbi Goldstein for 30 years of spiritual guidance -
our family is grateful for your leadership and our community
is stronger because of you! Mazel Tov on your retirement!
Photo: Israel Bar Mitzvah December 2007
Amy, Stan, Josh, Bryan and Andrew Riemer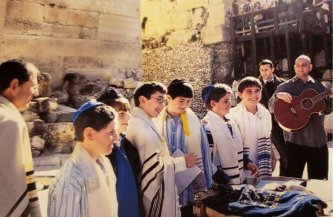 Full Page Tribute
Rabbi - It goes without saying that your leadership,
empathy and spiritual guidance will be missed.
But what our family will miss most of all
is your ability to find the right words
at the right time.
Marc, Laura, Mindy, Ilana, Jerry,
Noah and Corey Freedman
Full Page Tribute
Saluting one of the most kind
and influential leaders
in the Greater Andover community.
It's an honor to be his friend.
Tim & Lucy Vaill
Half Page Tribute
Mazel Tov to Rabbi and Faith Goldstein
on your 30 years of commitment and leadership
to Temple Emanuel and the Andover community.
Robby, Maureen and Robby Jr. Chapman
---
Quarter Page Tribute
We will miss your inspiring words,
your support & I'll never forget
your supportive calls
when my mom got sick.
Denise, Bobby, Brittney and Courtney Nash
---
Eighth Page Tribute
Congratulations Rabbi Goldstein
for his 30 years of dedicated service
to Temple Emanuel.
Susy and Richie Payne
---