Gloria Nusbacher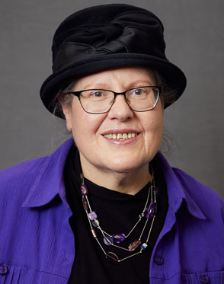 Gloria Nusbacher came to Maharat after a career in corporate law, including almost 20 years as a partner at one of the 100 largest U.S. law firms. She interned at Congregation Ohev Sholom - The National Synagogue in Washington, DC, the Hebrew Institute of Riverdale, and New York Presbyterian - Allen Hospital, and co-founded and ran her community's women's tefilla group. Gloria earned a B.A. from Barnard College and a J.D. from Columbia Law School, and has studied at Drisha. She lives in Riverdale and West Hempstead, NY with her husband, Burt, and is a proud mother and grandmother.
Rabba Dr. Anat Sharbat & Ariel Freidenberg Sharbat
Mazal Tov for the Great Musmachot and for Am Israel for the new Rabbis.
Liz Shayne
Mazal tov to my amazing colleagues, chavrutot and, above all, friends. I am so proud of you!!
Kenneth and Regene Prager
Congratulations to all the musmakhot on your accomplishment
Maya and Noam Bernstein Silverman
Congratulations to all the musmakhot on your accomplishment
Peri & Freda Rosenfeld
$99.00
Rabba Rachel and Rabbi Avi Finegold
West Hempstead Tefillah Group
$360.00
Mazel tov to Gloria and all the Musmakhot upon receiving Semikha. We are incredily proud of your achievement. West Hempstead Women's Tefilla Group
Rabbi Marianne Novak & Dr. Noam Stadlan
My dear friends and Musmakhot, Mazal Tov to all of you on this outstanding achievement , a tribute to your learning, persistence and love of Torah. A special heartfelt congratulations to my former chavrutot Michal and especially Jen. May you truly continue to bring your real light of Torah to a world so desperately in need of it.
B'ahava, Rabbi Marianne Novak and Dr. Noam Stadlan
David & Esther Malach
$118.00
David and Esther Malach
$11,800.00
Aliza Libman Baronofsky and Ari Baronofsky
Mazal tov to my beloved classmates on your tremendous accomplishment. It has been a gift to learn with all of you.
Rabba Wendy Amsellem and Rabbi Mike Moskowitz Amsellem and Moskowitz
Mazal tov to the amazing musmakhot! We cannot wait to see all that you will do.
Aline Frisch and Staff@ Latino Ambulette/search and Find
$180.00
A special Hakarot Hatov to my talented and devoted friend, Gloria Nusbacher. Much Nachat , Aline Frisch