Amalia Haas
Advanced Kollel: Executive Ordination Track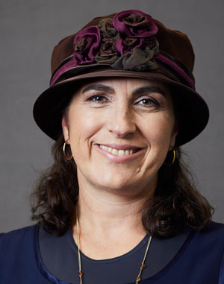 Amalia Haas is honored to apply Maharat's teachings to deepen and broaden her work at the intersection of Judaism, food, and the environment. An experiential educator, writer, and organic beekeeper, Amalia designs and teaches Judaism-informed honeybee education programs, sells raw honey at
www.Bee-Awesome.com
and is "Rabba of the Bees" at the Shalom Institute in Malibu, CA. She is an activist with Hazon, GreenFaith and the Jewish Farmer Network. Previous education includes the Michlalah, Machon Pardes, MaTaN, Yeshiva University and Oberlin Conservatory. Amalia lives in Beachwood, Ohio with her husband Adam and six fantastic children ages 9 - 23.
Melissa Simon & Asher Siebert
$54.00
Rabba Dr. Anat Sharbat & Ariel Freidenberg Sharbat
Mazal Tov for the Great Musmachot and for Am Israel for the new Rabbis.
Stacy Leeman & Gary Liebesman Stacy Leeman & Gary Liebesman
Kenneth and Regene Prager
Congratulations to all the musmakhot on your accomplishment
Liz & Nigel Savage
$180.00
Mazal tov to everyone - and especially to Rabbi Amalia Haas!!
Frank Rosenberg
$180.00
Mazel Tov from your shul family at OZCS Cedar Sinai Synagogue in Cleveland, Ohio
Susan and Gary Haas
$50.00
Rabba Rachel and Rabbi Avi Finegold
Rabbi Marianne Novak & Dr. Noam Stadlan
My dear friends and Musmakhot, Mazal Tov to all of you on this outstanding achievement , a tribute to your learning, persistence and love of Torah. A special heartfelt congratulations to my former chavrutot Michal and especially Jen. May you truly continue to bring your real light of Torah to a world so desperately in need of it.
B'ahava, Rabbi Marianne Novak and Dr. Noam Stadlan
Aliza Libman Baronofsky and Ari Baronofsky
Mazal tov to my beloved classmates on your tremendous accomplishment. It has been a gift to learn with all of you.
Rabba Wendy Amsellem and Rabbi Mike Moskowitz Amsellem and Moskowitz
Mazal tov to the amazing musmakhot! We cannot wait to see all that you will do.
Sharon Feiman-Nemser
$180.00