Judith Levitan
Advanced Kollel: Executive Ordination Track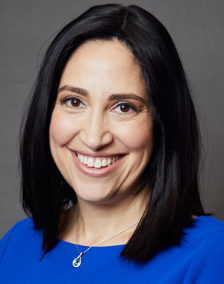 Judith is a lawyer with over 15 years experience in the field of social justice. She currently works at Legal Aid NSW where she uses Human Centred Design to innovate and improve legal services for disadvantaged people. She holds degrees in Law and Social Work and also studied at Midreshet HaRova and Nishmat. Her honours thesis examined family violence in the Orthodox Jewish community and she was a founding member of the Jewish Alliance Against Family Violence. Judith lives in Sydney Australia where she regularly represents the NSW Jewish community at interfaith events, runs women's tefilah services and teaches bat mitzvah.
Tamara and Jonathan Samuel
$180.00
So proud to be living in this time of authentic female Jewish leadership. Go Jude and Sarah!
Rabba Dr. Anat Sharbat & Ariel Freidenberg Sharbat
Mazal Tov for the Great Musmachot and for Am Israel for the new Rabbis.
Lisa Schlaff
Mazal tov to all the graduates! Judith, Daniella, Alana and Agi you are an inspiration!
Kenneth and Regene Prager
Congratulations to all the musmakhot on your accomplishment
Maya and Noam Bernstein Silverman
Congratulations to all the musmakhot on your accomplishment
Rabba Rachel and Rabbi Avi Finegold
Rabbi Marianne Novak & Dr. Noam Stadlan
My dear friends and Musmakhot, Mazal Tov to all of you on this outstanding achievement , a tribute to your learning, persistence and love of Torah. A special heartfelt congratulations to my former chavrutot Michal and especially Jen. May you truly continue to bring your real light of Torah to a world so desperately in need of it.
B'ahava, Rabbi Marianne Novak and Dr. Noam Stadlan
Karen Heilig and Ivan Ciment
$250.00
Mazal Tov to everyone at Yeshivat Maharat
Aliza Libman Baronofsky and Ari Baronofsky
Mazal tov to my beloved classmates on your tremendous accomplishment. It has been a gift to learn with all of you.
Rabba Wendy Amsellem and Rabbi Mike Moskowitz Amsellem and Moskowitz
Mazal tov to the amazing musmakhot! We cannot wait to see all that you will do.
Brian and Beryl Levitan
$99.00
Sylvia and Eitan Franklin
$36.00