Dr. Agi Veto
Advanced Kollel: Executive Ordination Track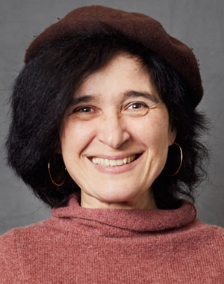 Dr. Ágnes (Ági) Veto, an Adjunct Assistant Professor of Religion at Vassar College, grew up in Budapest, where she studied Biblical and Jewish Studies at Eotvos Lorand University. She then spent two years in Paris at the Sorbonne, the Institut Catholique and the École Pratique Des Hautes Études, and later a year at the Pardes Institute in Jerusalem. Dr. Veto earned an M.A. in African and Oriental Studies at S.O.A.S. University of London, another M.A. in Jewish Studies at the Rothberg Graduate School of Hebrew University in Jerusalem, and a PhD in Talmud and Rabbinic Literature at New York University.
Rabba Dr. Anat Sharbat & Ariel Freidenberg Sharbat
Mazal Tov for the Great Musmachot and for Am Israel for the new Rabbis.
Stacy Leeman & Gary Liebesman Stacy Leeman & Gary Liebesman
Lisa Schlaff
Mazal tov to all the graduates! Judith, Daniella, Alana and Agi you are an inspiration!
Kenneth and Regene Prager
Congratulations to all the musmakhot on your accomplishment
Rabba Rachel and Rabbi Avi Finegold
Rabbi Marianne Novak & Dr. Noam Stadlan
My dear friends and Musmakhot, Mazal Tov to all of you on this outstanding achievement , a tribute to your learning, persistence and love of Torah. A special heartfelt congratulations to my former chavrutot Michal and especially Jen. May you truly continue to bring your real light of Torah to a world so desperately in need of it.
B'ahava, Rabbi Marianne Novak and Dr. Noam Stadlan
Aliza Libman Baronofsky and Ari Baronofsky
Mazal tov to my beloved classmates on your tremendous accomplishment. It has been a gift to learn with all of you.
Rabba Wendy Amsellem and Rabbi Mike Moskowitz Amsellem and Moskowitz
Mazal tov to the amazing musmakhot! We cannot wait to see all that you will do.